The Latest 10 Best Text to Speech Generators
Looking for the best text-to-speech generators? Check out our list of the latest top 10 options available today. From natural-sounding voices to multiple language support, find the perfect TTS tool for your needs.
Text-to-speech, abbreviated as TTS, not only helps people save time and energy, but also helps those who are visually impaired and dyslexic. By using these tools, we can quickly convert text content into speech so that it can be easily heard and understood when needed.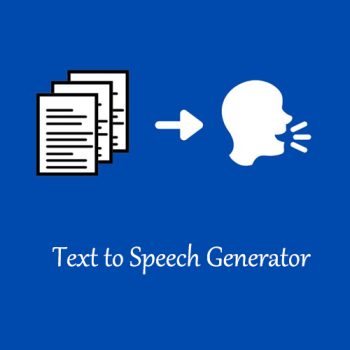 What Is Text to Speech Generator
Text to Speech (TTS) Generator is a software application that converts written text into audio output. It uses natural language processing and = synthesis technology to convert text to speech.
Users can enter any written text and TTS Generator will read it aloud using computer-generated speech. There are many applications for this technology, including assistive reading tools for people with visual or learning disabilities, language translation services, and more.
Some TTS Generators can also adjust the voices, tone and speed of Text to Speech voices to make it sound more natural and personal. With advances in artificial intelligence and machine learning, TTS generators are becoming more accurate and capable of replicating human speech patterns and intonation.
Text to Speech Generator Functions
Here are some common features of Text to Speech Generator:
AI text to speech:

Convert the input text into natural speech output, ie type to speech.

This is the core functionality of Text to Speech Generator.
Speech synthesis: text to speech ai can use different parameters such as timbre, speech rate, and pitch to generate natural speech output.
Multilingual support: Support speech synthesis in multiple languages, such as English, Chinese, French, etc.
Tone, volume, and tone options: Provide a variety of different text to speech characters tone options such as male and female voices and children's voices; the volume and tone of the voice output can also be adjusted to meet individual needs.
Speed and quality control: You can adjust the speed of voice output and choose different audio quality according to the needs of users.
Batch processing: Multiple text files can be processed at the same time to improve efficiency.
Preset templates: Preset templates can be used to quickly generate voice output.
10 Best Text to Speech Generator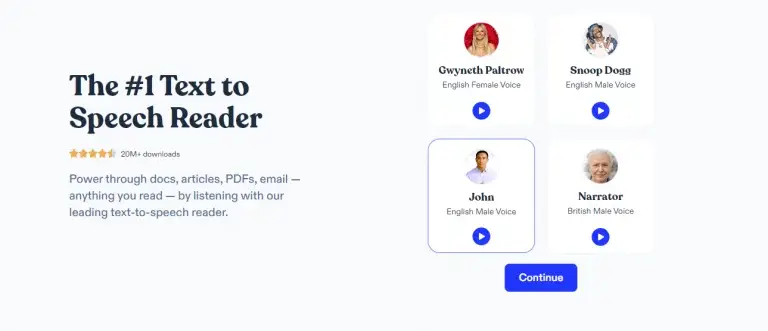 Speechify App, an AI Text 2 Speech Reader founded by Cliff Weitzman in 2017, uses optical character recognition to convert printed or digital text into audio. It can convert text content into speech, allowing users to listen to books, articles and other types of text content without having to read it, aiming to help people get more information through text-to-speech. Speechify has cooperated with many well-known companies such as Microsoft, Google, Whatsapp, etc., and has more than 20M users.
Speechify is especially suitable for: online audio novel reading, assisted reading for the disabled
Text-to-speech:

Speechify supports converting any text content into high-quality speech, and users can choose from a variety of different speech and reading speeds.

Multi-device cross-platform synchronization:

Speechify supports synchronization between multiple devices, which means you can use Speechify on different devices and your content and settings will stay in sync. Speechify APP can also be used on multiple platforms on iOS and Android systems. On the PC side, Speechify supports Mac and Windows, and also provides a speechify chrome extension.

PDF support:

In addition to text input and photo extraction, Speechify also supports PDF files, so users can convert e-books and other PDF documents into speech.

Speech Recognition:

Speechify also supports speech recognition, so users can use voice commands to control the app.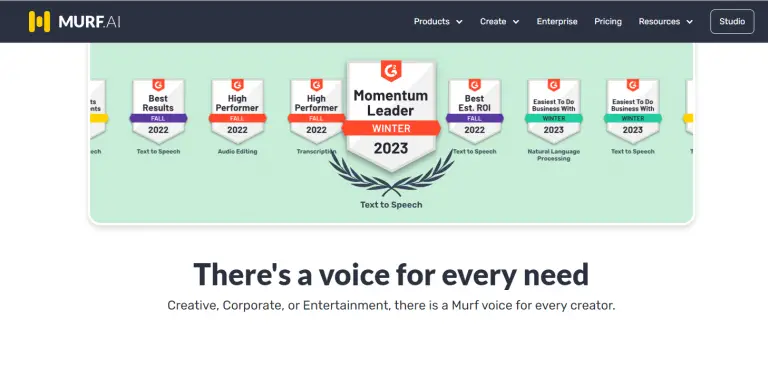 Murf is a text to speech software based on artificial intelligence and deep learning algorithms developed by the Murf AI team in 2021. Murf's AI voice text to speech feature mimics the pitch and rhythm of human speech and voice, rather than sounding monotonous and robotic, to help you create realistic synthetic speech. Murf's online speech generation tool lets you convert text into natural-sounding speech in minutes.
Murf is especially suitable for: general text to speech tasks
AI voice library supports more than 130 languages in 15 languages with different accents and tones.

Use advanced AI algorithms to understand the emotion of text to output the emotion of speech realistically.

Add voiceover to your video/ppt without video editing.

Support AI voice changer and voice editing function.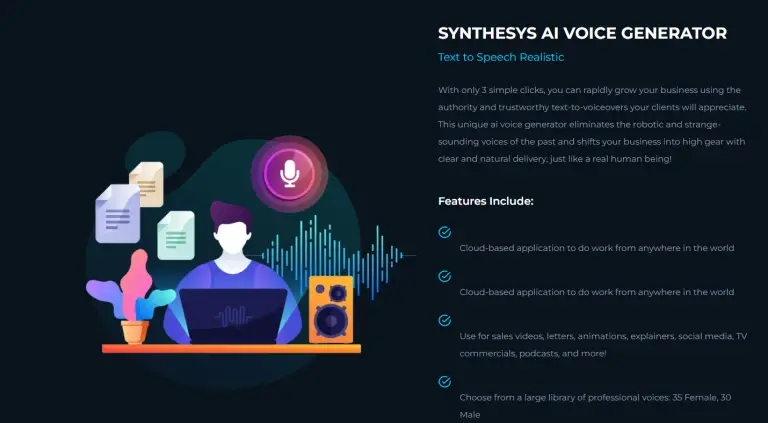 Synthesys is a text to speech generator developed by the season voice teamwith, text to video function. Synthesys is an industry leader in text-to-speech and text-to-video algorithms for business use, transforming your text scripts into vibrant spoken instructions and dynamic media presentations in minutes.
Synthesys is especially suited for: text to speech and text to video tasks for commercial use
Voice library in over 66 languages and a total of 254 unique styles

Provide cloud services, low requirements for computer configuration

Easy-to-use audio editing and rendering interface

AI self-learning and real-time update for better user experience

Developed by WellSaid Labs, WellSaid's main function is to convert text into a natural and smooth human voice, making it sound like it was narrated by a real human. Using advanced deep learning algorithms and natural language processing technology, WellSaid is able to provide high-quality speech synthesis services for various application scenarios, including voice assistants, broadcasting, audiobooks, telephony, virtual reality, and more.
WellSaid is especially suitable for: text to speech tasks for teamwork
Provide callable API services

Support secondary editing audio

Multiple audio output formats available

Text Analysis and Speech Change Detection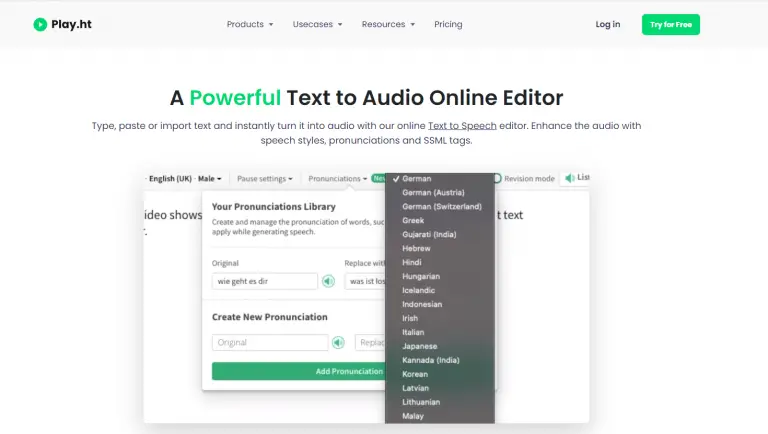 Play.ht is an online AI speech synthesis tool created in July 2021 by Mahmoud Felfel. Play.ht can generate AI audio that sounds very human-sounding based on user text. Play ht provides up to 52 languages with a variety of voice styles to choose from, including male voice, female voice, child voice, deep and high pitch, etc., to meet the needs of different users. Plus, Play.ht creates clear, professional voiceovers for your videos, articles, podcasts, and more.
Play.ht is especially suitable for: the pursuit of a very anthropomorphic realistic text to speech effect
Custom voice:

Users can customize the voice according to their own needs, such as adjusting parameters such as speech rate, pitch and volume, and arranging special pronunciation of words, etc.

API interface:

Play.ht provides an API interface, which can be used in other applications.

Good Voice Quality:

Play.ht's speech synthesis technology has good quality and naturalness.

Multiple output formats:

Play.ht can output audio files in various formats, including MP3, WAV and OGG, etc.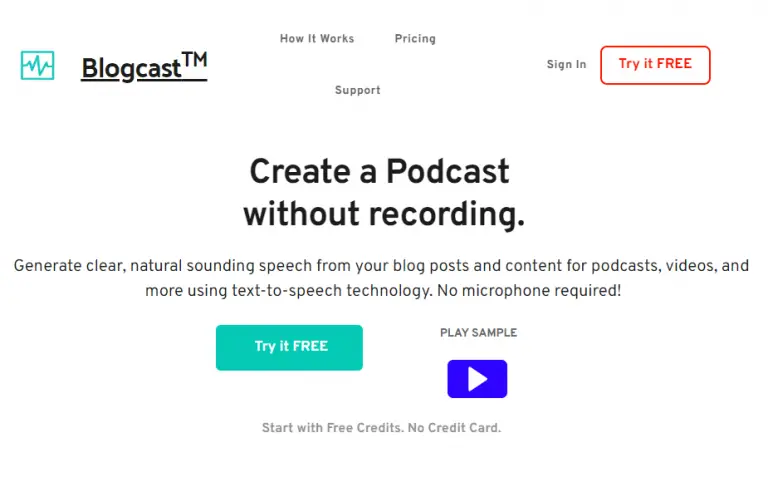 Blogcast is a powerful text-to-speech generation tool that uses state-of-the-art machine learning and natural language processing techniques to convert text into lifelike human speech. Blogcast supports more than 25 hundred languages, has the world's largest voice library, and provides more than 100 voices in different styles.
Blogcast is especially useful for: text-to-speech support for blog posts, web articles, etc.
Speech synthesis: Blogcast can convert text into high-quality voice output, supporting many different voices and languages.
Custom Voice: Users can customize the generated voice by selecting from a number of different voices and languages, as well as adjusting parameters such as speech rate, pitch, and volume.
Highly realistic: Blogcast's speech synthesis technology uses deep learning algorithms and natural language processing techniques to generate highly realistic human speech.

Blogcast supports mp3 format audio download and cloud service functions.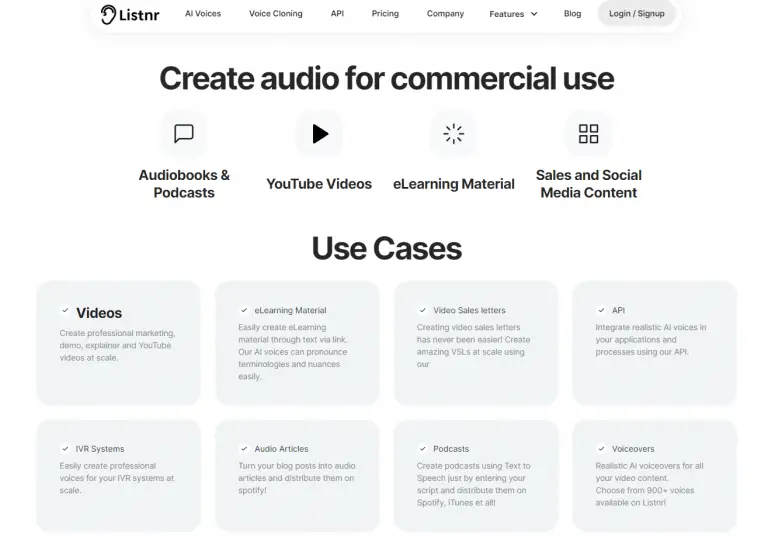 Want to use text to speech generator online free and unlimited? Listnr is one of the top rated AI speech generators in 2023. With a library of over 900 voices in over 145 different languages and dialects, Listnr makes it easy to generate realistic AI anthropomorphic voiceovers. Listnr also has an advanced text-to-speech editor that simplifies the steps and offers a free trial period. Listnr's standalone embedded audio player supports uploading your audio content anywhere.
Listnr is especially useful for: Podcast sites with embedded audio playback
Multiple Voice Choices: Listnr supports multiple languages including English, French, Spanish, German, Italian, Dutch, Russian, Arabic and more. Users can also choose their own voice according to their needs.
Emotional coloring: Listnr can automatically add emotional coloring according to the text content, such as laughter, sadness, anger, etc. These emotional colors can make the output speech more real and vivid.
Pronunciation Correction: If the entered text contains errors or misspellings, Listnr can automatically correct it and pronounce it correctly. This guarantees the output voice quality and avoids confusion caused by mispronunciation.
High-quality output: Listnr uses the latest natural language processing technology to provide high-quality, natural, smooth voice output, and the output voice quality is close to human pronunciation.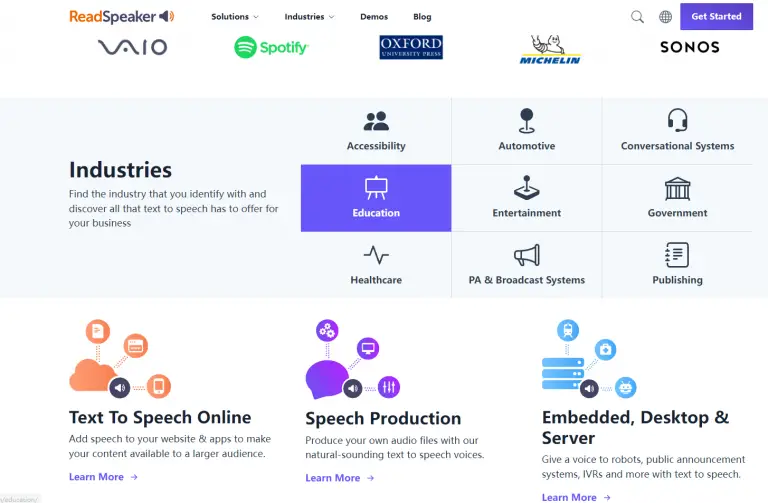 ReadSpeaker is the global text-to-speech expert, providing dozens of language support and realistic voice library. ReadSpeaker uses next-generation Deep Neural Network (DNN) technology to structurally improve speech quality at every level. With offices in 15 countries and more than 10,000 customers in 70 countries, ReadSpeaker offers a complete Text-to-Speech (TTS) product offering broad application support across channels and devices across multiple industries.
ReadSpeaker is especially suitable for: high-volume commercial text-to-speech production
Online text-to-speech:

Add speech to your website and app text, making your content accessible to a wider audience.

Voice Production:

Generate your own audio files using natural-sounding text-to-speech technology.

Multiple application scenarios: Provide voice for robots, public address systems, etc. through text-to-speech.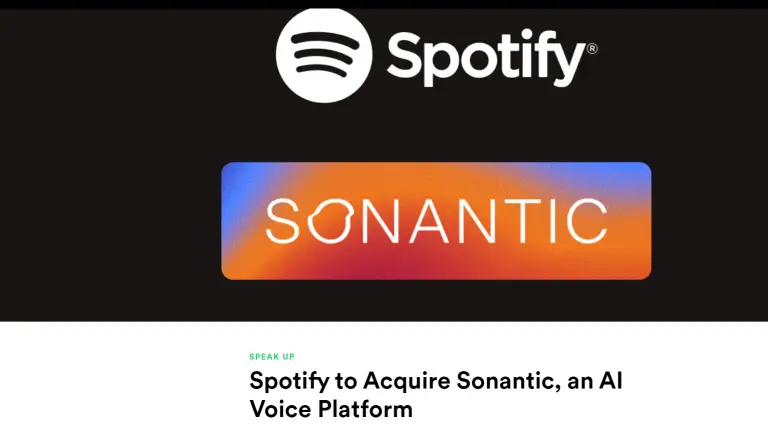 Sonantic is an artificial intelligence voice platform owned by Spotify, focusing on providing high-quality voice technology for entertainment, games, virtual reality and other fields. Based on cutting-edge technologies such as deep learning, machine learning, and signal processing, Sonantic's technology can provide users with high-quality, natural, and lifelike text-to-speech effects.
Sonantic is especially useful for: text-to-speech support for games, animations, etc.
Speech Synthesis: Sonantic can use its advanced speech synthesis technology to convert text into high-quality speech output.
Speech recognition: Sonantic's speech recognition technology can learn real speech samples, identify different languages, dialects and accents, and achieve more accurate and faster speech recognition, thus providing users with more intelligent voice interaction.
Speech Enhancement: Sonantic can also provide support for speech enhancement technology, which allows users to convert low-quality speech audio into high-quality speech output. This can improve the quality and user experience of voice interactions.
Voice Actors: Sonantic has a strong library of voice actors who can provide high-quality dubbing services to clients. Voice samples from these actors are used to train Sonantic's speech synthesis technology for more natural, lifelike speech output.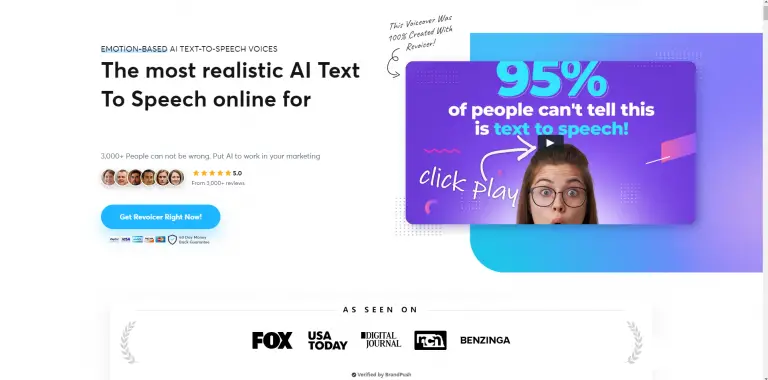 Revoicer is a text-to-speech generator released in 2021. Based on advanced technologies such as deep learning, neural network and natural language processing, it can convert text into natural and lifelike speech output. Revoicer helps you generate voiceovers for your videos very quickly.
Revoicer is especially useful for: generating voiceovers for all kinds of your videos.
Supports 80 different voices from more than 40 different languages.

You can freely convert any text content you want into voice output. Include blog posts, news, books, research papers, or any other textual content.

Compatible with all major video editing software.
Text-to-voice generators have been widely used in various fields, providing people with a more convenient and efficient voice interaction experience.
In the commercial field, Text-to-voice generators have been widely used in advertising, customer service, education, and entertainment. By converting text into natural and realistic voice output, Text-to-voice generators can provide users with a better voice interaction experience, and at the same time help enterprises reduce costs and increase efficiency.
In the field of education, Text-to-voice generators can convert text content such as textbooks and papers into voice output, providing students with a more convenient learning method. At the same time, Text-to-voice generators and text to speech robot can also provide a more friendly reading method for the visually impaired and contribute to educational equity.
In the future, with the continuous development of artificial intelligence technology and the continuous expansion of application scenarios, the application prospects of Text-to-voice generators will also continue to expand. At the same time, with the continuous upgrading of technology, the voice output of Text-to-voice generators will become more natural and realistic, providing users with a higher quality voice interaction experience.